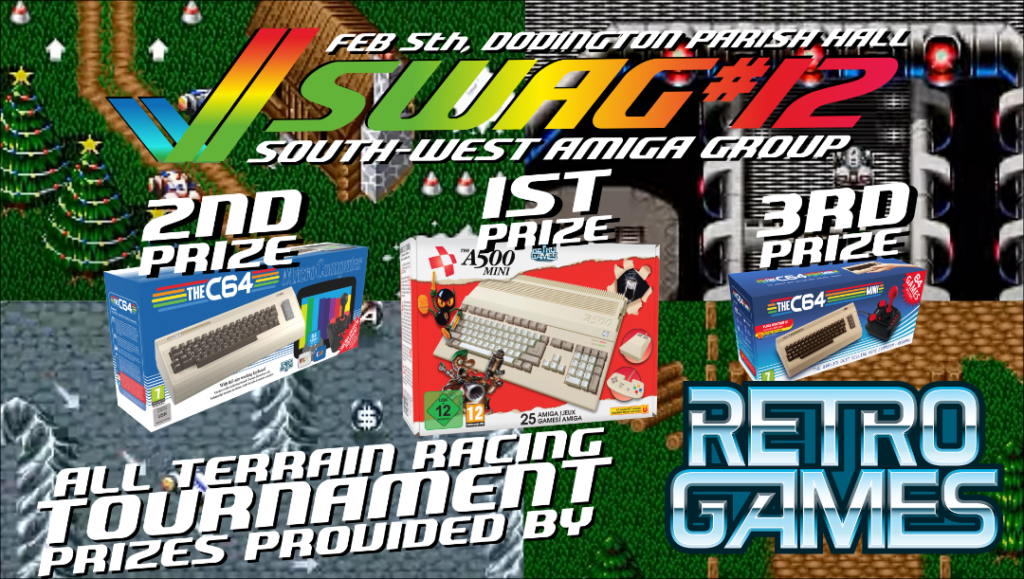 It's been some time in the planning stage but we can now reveal that our main sponsor for all forthcoming SWAG meets in 2022 is Retro Games Limited; developers of the C64 Mini, THEC64 and the soon to be released A500 Mini.
To celebrate this sponsorship we will be running an All Terrain Racing (ATR) competition at our next meet on Saturday 5th February. ATR is one of the many games bundled with the A500 Mini which goes on sale in March.
Retro Games Limited have generously provided the prizes for this tournament, which are:
Third Place – C64 Mini
Second Place – THEC64
First Place – A500 Mini*
*As this has not yet been released it will be sent to the winner when it launches.
We will be judging the final prizes outcome based on competitors' best ATR lap time on the first "sports" course (the top one) in 1-player arcade mode. The player can use whichever car, car mods in the shop (choose carefully between power and control!) and control system (stick or keyboard) they choose. Each race consists of 6 laps; competitors are allowed 3 races in total throughout the day. When the competition ends, the 3 highest scoring players will be awarded the 1st, 2nd and 3rd prizes respectively. Only 1 prize per competitor! Racing will take place on the same designated Amiga
Final Judging will be done by Gil and Derek (from Amiga Spirit) who will be running the tournament.
Just a reminder that we're almost sold out of tables for the 5th, so if you want to attend, you must purchase a ticket then please don't delay! Name badges will be provided upon entry. Your ticket price covers a buffet lunch, snacks and drinks. If you don't wish to bring any kit then please book a "seat" ticket.
There may be filming going on during the meets, so please be aware of this.
We look forward to seeing you and extremely excited to be running the Tournament in conjunction with Retro Games Ltd.