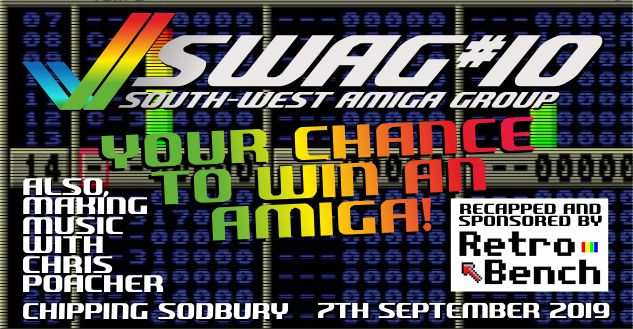 SWAG Meet #10 – Sponsored by Retrobench.
Our meeting numbers are now into double digits as we can announce that the next SWAG meet will take place at Dodington Parish Hall, Chipping Sodbury, Bristol, BS37 6JZ, on Saturday 7th September.
Running from 10:00am – 10:00pm, this promises to be yet another packed day of gaming, coding, modding, repairing and more.
We can now also reveal that the event has been sponsored by Retrobench (www.retrobench.com). Scott has very generously covered all of our room hire fees for the meeting.
Prizes Galore!
Not only is Retrobench sponsoring the room hire, but they're also running an amazing raffle with three stunning prizes up for grabs.
1st prize – Re-capped Amiga 1200
2nd prize – Re-capped Amiga 600
3rd prize – Amiga 500
Everyone who purchases an entrance ticket will automatically be entered into the draw. But, if you'd like to increase your chances of winning extra tickets can be purchased on the day for £2 each.
Scott at Retrobench has kindly offered these amazing prizes for free, with ALL profits going back into SWAG funds. So, dig deep!
Making Music
Amiga music maestro Chris Poacher will be setting up a one day music studio at the event. If you ever wanted to learn about making music on your Amiga or fancied brushing up on your skills then please feel free to drop-in and speak to Chris during the day.
Sell! Sell! Sell!
Regulars to SWAG meetings will know that we've been unable to allow people to sell merchandise due to the limitations placed on our venue booking. Well, you'll be pleased to learn that this has now been cleared with the Parish Council.
So, feel free to bring items of kit to sell on the day!
Get Your Kit Repaired
The SWAG fit-it team will be in attendance throughout the day of the event. Bring along broken Amiga hardware and the team will do their best to get it up and running once again.
Whether it's a recap, repairing of a floppy drive or just some general maintenance, the team aim to bring as much classic hardware back to life as they can.
Show Some Love and Tip the fix-it Team
Our fix-it team work non-stop throughout the day to help you get your kit up and running once more. They don't charge a penny for the service (but do charge for caps if you're after cap replacements) and do it for the love of keeping classic computer equipment up-and-running.
If you'd like to show your appreciation you'll find a tip jar on the fix-it bench. Please dig deep and help buy the team a pint or two as a way of saying thank you.
Tickets
Tickets cost £5.50, and if you're quick enough you can book one of the limited number of tables for you to set your kit up on. Once the tables have all been taken there will be a few spaces available if you're able to supply your own table. When those have gone you can still book a ticket to attend but you will be unable to set up any kit.
All tickets cover a sandwich lunch, plus tea, coffee, soft drinks and nibbles throughout the day. As mentioned above, your entrance ticket also automatically enters you into the Amiga prize draw run by Retrobench.
The Booking Page will open on Tuesday the 6th of August at 20:00 BST.